Smokin' Joe Kubek Guitar • Bnois King Guitar and Vocals • Paul Jenkins Bass
Dave Konstantin Drums with John Street Keyboards on tracks 1, 2, 7, 8, 10 and 12
Produced by Smokin' Joe Kubek and Bruce Iglauer • Recorded and mixed at Audio Dallas, Garland, TX
Engineered and mixed by Paul Osborn • Engineering assistance by Matt Kennedy
Mastered by Dan Stout and Bruce Iglauer at Colossal Mastering, Chicago, IL • Photos by James Bland
Packaging design by Kevin Niemiec • Alligator logo by Michael Trossman
Joe Kubek endorses Dr. Z amplifiers, Van Zandt pickups, Rocktron stomp boxes, GHS strings and Ruby tubes.
Bnois King endorses Rocktron Replitone amplifiers made by GHS.

© 2008 Aligator Records ALCD 4920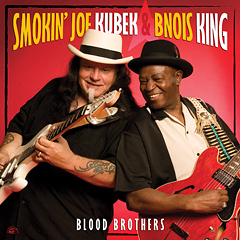 CLICK HERE TO BUY THIS CD ONLINE
The most potent one-two punch in blues makes their Alligator debut. Tough, no-holds-barred Lone Star State blues from a couple of masters at the top of their game, with Smokin' Joe's huge biting tone and Bnois' suave, passionate singing leading the way. "Potent, undiluted 100-proof Texas Blues honed to a razor's edge" –GuitarOne
Smokin' Joe and Bnois are both excited about being a part of the Alligator family. "I've been wanting to be on Alligator since the '80s," says Joe. "To me it's the hardest blues label to get on. To be signed with Alligator shows you're doing things right. Alligator is the Rolls Royce of blues labels."
Now, with this great new CD and a new label, Joe and Bnois are ready to do what they do best, get out on the road and take their music to the people. "We once made a run to Canada and back for one gig," laughs Joe. "We flew to Montevideo, Uruguay to do a 60-minute one-nighter. We've done lots of flights to Europe for one-nighters. We're crazy. We'll go to any length to play a shuffle. Any length!" Now the question is—does anyone know a good blues club in Vermont where they like shuffles.