Smokin' Joe Kubek - lead, slide & effects guitars
Bnois King - vocals, lead & rhythm guitars
Bobby Chitwood - bass
Kenneth Stern - drums
Additional Musicians:
Ron Levy - Hammond B-3
Jim Spake - tenor & baritone saxophones
Scott Thompson - trumpet
Rusty McFarland – cowbell
Produced by Ron Levy Bullseye Blues CD BB 9560
© 1995 Rounder Records Corp.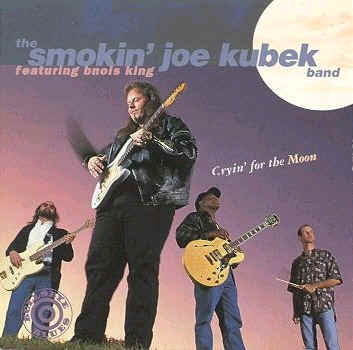 To listen to audio clips click on each song
CLICK HERE TO BUY THIS CD ONLINE
Smokin' Joe Kubek and the incomparable Bnois King always set out to steamrollerin' the house. Let's face it, most musicians would come down with a quick case of the flu if they had to follow Sherman Robertson and Sleepy LaBeef. Not the Smoker. He and his quartet will grab you by the throat and shake it for the entire South Dallas axe handle they could muster. Combining a straight ahead buzz saw blues with some elliptical jazz riffs, Smokin' Joe throws down a night of original fire with a seasoned hide-tight groove that his mentor Freddie King would have admired.
"You're My Brand" is kickin' and rockin' as the band moves with equal ease through the twirls of a Texas Swing, the hawk-swept streets of Chicago, and the lonely introspection of a man "Cryin' for the Moon." Perfectly bottomed by a driving bass, drums and Hammond organ, Smokin' Joe and honey-dripper vocalist Bnois King proved that there's another bottle where the last one came from.