| | | |
| --- | --- | --- |
| 1 | | 4:11 |
| 2 | | 3:31 |
| 3 | | 4:41 |
| 4 | | 4:58 |
| 5 | | 4:11 |
| 6 | | 3:46 |
| 7 | | 4:29 |
| 8 | | 2:37 |
| 9 | | 5:34 |
| 10 | | 5:17 |
Smokin' Joe Kubek - lead, slide & guitar effects (right channel)
Bnois King - vocals, rhythm & lead guitars (left channel)
Paul Jenkins - bass
Mark Hays - drums
Produced by Ron Levy
Bullseye Blues CD BB 9578
© 1996 Rounder Records Corp.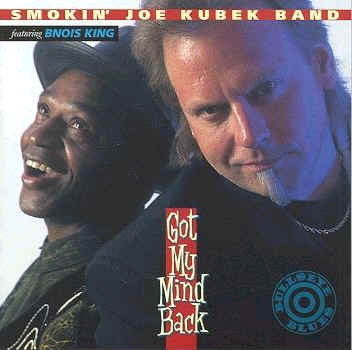 To listen to audio clips click on each song
CLICK HERE TO BUY THIS CD ONLINE
That whole Texas-rhythm-thing is what makes it stand out in the world of blues. The big backbeat, bass players who know what bottom end really means, and guitarists who play their guitars more than their pedals. On Got My Mind Back, Smokin' Joe Kubek plays it straight down the line. Along with Duke Robillard he's one of the most exciting players around and on this album he turns guitar to gold. Problem is he's working with material that's been worked over so many times it's starting to trip over its own feet. Sure, in name the songs are all originals but most blues "originals" these days are just thinly disguised covers of covers. Bnois King's much-vaunted vocals intrude on Kubek's playing rather than enhance it. There's just no hurt in his voice. Blues singers don't get their voices from drinking whisky. They get them from drinking bad whisky. They say white men can't sing the blues, but there are some black men who can't either. As a showcase for Kubek's guitar playing this album works, on any other level don't hold your breath.