1

Have Blues, Will Travel
(Gurevich, Kubek, King, Eyeball Music, BMI)

4:06

2

Got You Out Of My Blood
(P. Kubek, King, J. Kubek, Eyeball Music, BMI)

3:55

3

Out Of Body, Out Of Mind
(Petty, Iglauer, Kubek, King, Eyeball Music, BMI)

4:29

4

RU4 Real?
(Kubek, King, Eyeball Music, BMI)

6:07

5

Payday In America
(Hecht, Kubek, King, Eyeball Music, BMI)

4:18

6

Shadows In The Dark
(Gurevich, Kubek, King, Eyeball Music, BMI

4:23

7

My Space Or Yours?
(Iglauer, Kubek, King, Eyeball Music, BMI)

3:18

8

Sleeping With One Eye Open
(Gurevich, Kubek, King, Eyeball Music, BMI)

4:19

9

My Guitar
(Kubek, King, Eyeball Music, BMI)

4:22

10

One Step At A Time
(Kubek, King, Eyeball Music, BMI)

3:41

11

Wishful Thinking
(Gurevich, Kubek, King, Eyeball Music, BMI)

4:06

12

What A Sight To See
(Kubek, King, Eyeball Music, BMI )

4:13
Smokiní Joe Kubek: lead guitar, slide guitar and rhythm guitar (left and center channels)
Bnois King: vocals, lead guitar and rhythm guitar (right channel)
John Morris: bass
Adrian Marchi: drums

Produced by Joe Kubek and Bruce Iglauer
Recorded and mixed by Sterling Winfield at Nomad Recording Studios, Carrollton, TX
Mastered by Dan Stout and Bruce Iglauer at Colossal Mastering, Chicago, IL
Photos by James Bland
Packaging Design by Kevin Niemiec
Alligator logo by Michael Trossman
© 2010 Aligator Records ALCD 4937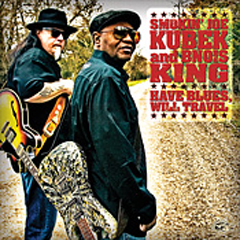 CLICK HERE TO BUY THIS CD ONLINE
The Dallas Observer
"An electric blast of twelve-bar heaven...they blow the roof off."
Blues Revue
"A great combination...Kubek's powerful, big-as-Texas guitar gets down and dirty. King delivers sharp and potent guitar and warm, soulful vocals."
Living Blues
"Raucous, high-energy Texas roadhouse blues-rock. Blistering guitar solos, irresistible shuffles and subtle ballads."
Billboard
"the band plays hard-hitting, original blues. Kubek is one of the fiercest Texas blues guitarists...his fiery leads are complemented by King's adroit rhythm guitar and classic vocals."
From the Artist
"I've been listening to this album over and over again," he says, "and I don't get tired of it. In fact, I've become a big fan of it, and I start thinking, 'man, I wish we had made this record.' And then I remember we did." Kubek agrees. "We challenged ourselves, went into new territory both musically and lyrically, and came out the other end with something we're extremely proud of."