All songs published by Viper Music and BMI.
Smokin' Joe Kubek - Electric, Acoustic and Slide Guitar

Bnois King - Vocals and Electric Guitar
Paul Jenkins - Bass
Ralph Power - Drums
Blind Pig Records BPDVD6007© 2006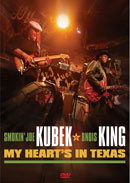 To listen to audio clips click on each song
This blazing New Year's Eve performance at the legendary J&J Blues Bar in Forth Worth, Texas is amazingly this veteran duo's first DVD in their 15 year career. Holiday cheer and roadhouse ambiance make for a uniquely satisfying taste of Joe and Bnois' trademark Texas blues.