| | | |
| --- | --- | --- |
| 1 | | 4:20 |
| 2 | | 4:18 |
| 3 | | 4:23 |
| 4 | | 3:36 |
| 5 | | 4:24 |
| 6 | | 3:47 |
| 7 | | 3:22 |
| 8 | | 4:07 |
| 9 | | 3:39 |
| 10 | | 4:20 |
| 11 | | 4:03 |
| 12 | | 3:57 |
Smokin' Joe Kubek: guitar [right], lap steel (10)
Bnois King: vocals, guitar [left]
Kid Andersen: guitar [center] (6)
Randy Chortkoff: harmonica (3, 11), vocals (3)
Kim Wilson: harmonica (3, 5, 9), vocals (3, 9)
Willie J. Campbell: electric bass (all tracks except 8 & 11)
Patrick Recob: electric bass (8, 11)
Jimi Bott: drums
Produced by: Randy Chortkoff
Engineered and mixed by David Z.
DGPCD162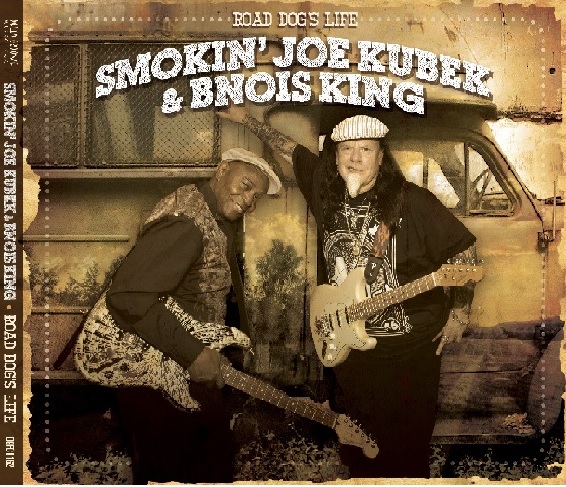 CLICK HERE TO BUY THIS CD ONLINE
Since first pairing up back in 1989 for a weekly Monday night gig at a neighborhood pub in Dallas, Texas, Smokin' Joe Kubek and Bnois King have become an inseparable musical force. Indeed, the scientific notion that opposites attract has found no better basis in fact than the shining examples of King's understated, jazz-inflected guitar, in stark contrast to Kubek's incendiary, fret-burnin' sorcery. For over twenty-years this fearsome twosome has been sweeping through towns and plundering festival and nightclub stages across the globe with the notorious ferocity of a deadly Texas twister. In as much time this enduring partnership has also produced thirteen critically-acclaimed recordings before embarking on their latest chapter with the Los Angeles-based blues label, Delta Groove Music.
In 2012, Kubek and King signed on with Delta Groove to record what was to become the pair's fourteenth album. Close to the Bone marked a bold shift in direction for these two as they proceeded to forgo the comfort and luxury of electricity and literally unplug their instruments for the duration of the recording session. The results were astonishing and a welcome change of pace, allowing listeners a deeper glimpse into the inner workings of their musical bond and chemistry. Of course they didn't have to go it totally alone, as they were assisted with a little help from some new and old friends including fellow label mates Big Pete, Lynwood Slim, Bob Corritore, Randy Chortkoff, Shawn Pittman, Kirk Fletcher, Fred Kaplan, Willie J. Campbell and Jimi Bott, as well as former Red Devils' guitarist, Paul Size. The album was greeted with reverential praise and even placed #14 on Guitar World's Top 15 Blues and Roots Rock Albums of 2012!
Now, following on the heels of the Texas duo's daring unplugged release, Smokin' Joe Kubek and Bnois King return to form with a stripped-down set of tough, electrified roadhouse blues. Road Dog's Life features an arsenal of mostly new and original material, emphasizing King's own wry, insightful lyrics, along with Kubek's searingly incisive, signature guitar, with the exception of only two covers - the Rolling Stones' Play with Fire and the Beatles' Don't Bother Me. Special guests this time out includes the Fabulous Thunderbirds' frontman Kim Wilson, Nightcats' guitarist Kid Andersen, Delta Groove label head Randy Chortkoff, Kansas City bassist Patrick Recob, along with the Mannish Boys' rhythm section, consisting of bassist Willie J. Campbell and drummer Jimi Bott. For Smokin' Joe Kubek and Bnois King the journey to this point has certainly been a long road to travel, but in the words of these hardened road dogs, "we wouldn't have it any other way."