| | | |
| --- | --- | --- |
| 1 | | 4:21 |
| 2 | | 4:38 |
| 3 | | 4:21 |
| 4 | | 3:47 |
| 5 | | 3:30 |
| 6 | | 2:36 |
| 7 | | 6:29 |
| 8 | | 4:03 |
| 9 | | 6:28 |
| 10 | | 3:29 |
Produced by Smokin' Joe Kubek
Smokin' Joe Kubek - guitar
Bnois King - guitar and vocals
Paul Jenkins - bass
Ralph Power - drums
Recorded and mixed by Paul Osborne Audio Dallas in Dallas TX
Mastering by Blaise Barton, Chicago. IL
Front cover and inlay by Pat Johnson
Photos of Smokin Joe and Bnois by James Netter
Design by Al Brandtner
Blind Pig Records BPCD 5080© 2003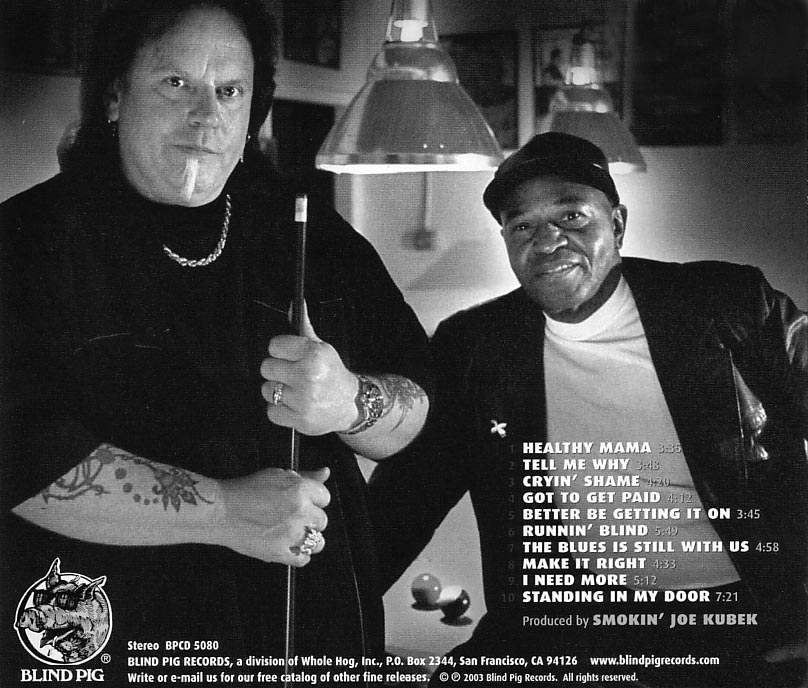 This is the back of the cover
To listen to audio clips click on each song
This is Smokin Joe Kubek's ninth album. Though these two come from differing backgrounds, Kubek was raised on sweaty Texas blues while King has a love for jazz and R&B. They share the stage and complement each other in a dynamic musical tour de force.
In fact, the two are renowned for their tasteful blending of differing styles with satisfying, fiery results. Blues Revue has stated, "King´s jazzy guitar work is the perfect foil to Kubek´s more incendiary style. They are simply the best guitar tandem on the scene today." Request magazine added, "The contrast between Kubek´s hot-wired axe and King´s understated street-cool vocals puts this combo in a category of its own."
Kubek, with his blazing blues/rock background, found in King's smooth jazz guitar stylings and soul-tinged vocals a perfect complement to his technique. Kubek´s frenzied, flame-throwing guitar style is tempered by the finesse of King´s jazz influenced accompaniment. They´ve been playing, touring, and recording together ever since. "We've pretty much been on the road since our first album came out--we go home for a minute and get back out on the road again," Kubek says.
Says Kubek of the signing and upcoming recording, "Being with Blind Pig is definitely a step up for us and a challenge to play the blues the way we think it ought to be played. This is going to be our best record yet. We're getting back to that Texas 'raw blues´ sound. That's us and that's what we do best."