All songs published by Viper Music and BMI. All selections written by Joe Kubek and Bnois King except tracks 3, 6, 10 (J. Kubek & B. King & S.Gurevich) and track 12, (P. Kubek, J. Kubek & B. King)
Produced and arranged by Smokin' Joe Kubek
Smokin' Joe Kubek - Electric, Acoustic and Slide Guitar Hammond B3 Organ on "Let's Stop Pretending" Electric Bass on "Mirror, Mirror
Bnois King - Vocals and Electric Guitar
Paul Jenkins - Bass
Ralph Power - Drums
Anson Funderburgh - Electric Guitar on "Invitation Only" Anson Funderburgh appears courtesy of Rounder Records
Mucho Gracias to: Phyllis, Scotty, Bnois, Ralph and Paul for the hand claps on "My Heart's In Texas"
Recorded and mixed by Paul Osborne at Audio Dallas Recording Studio in Dallas TX
Mastered by Blaise Barton
Design by Al Brandtner
Cover and tray photography by Scott Allen and Jen Taylor at Vividpix
Additional photos: Eric Hofmeister
Blind Pig Records BPCD 5090© 2004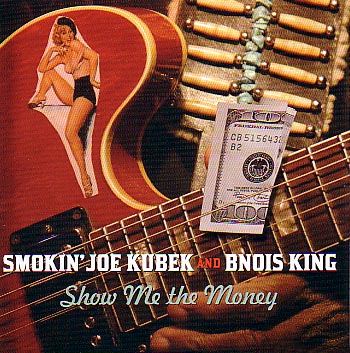 To listen to audio clips click on each song
Show Me the Money is a worthy successor to Joe and Bnois' acclaimed Blind Pig debut, Roadhouse Research. Kubek's flame-throwing guitar work tempered by the finesse of King's accompaniment and smooth vocals remain the bedrock of a powerful, irresistible combination. Or, as the Minneapolis Star-Tribune put it, "a rare blend of hot guitars and cool savvy, that does, indeed, smoke."
King's jazzy guitar is the perfect foil to Kubek's incendiary style - simply the best guitar tandem on the scene.