Smokin' Joe Kubek - lead guitar, lap steel, acoustic guitar, rhythm guitar, slide guitar, electric 12 string guitar
Bnois King - vocals, rhythm guitar, lead guitar, maracas
Guthrie Kennard - bass
Jimmy "Blue Shoes" Pendleton - drums
Additional Musicians:
Jimmy Thackery - 1st half guitar intro, rhythm guitar on "Worst Heartache"
Little Milton - lead guitar on "You Said 'I Love You' First" and "One Night Affair"
Jason Latshaw - conga, percussion
Holly Bullamore - tambourine
Brian Lacy - handclaps
Shannon Ernst - handclaps
Jackie Johnson - background vocals
Susan Marshall - background vocals
Jose Fumando - tambourine
Produced by Jim Gaines
Bullseye Blues & Jazz CD BB 9600
© 1998 Rounder Records Corp.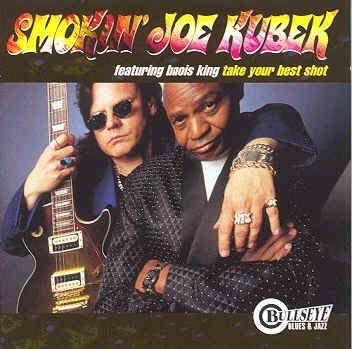 To listen to audio clips click on each song
CLICK HERE TO BUY THIS CD ONLINE
For their sixth Bullseye album in seven years, Texas blues men Smokin' Joe Kubek and Bnois King join forces with legendary producer Jim Gaines, known for Luther Allison's three award-winning Alligator recordings and Stevie Ray Vaughan's In Step. As if the power punch of Kubek, King and Gaines weren't enough, the trio invited some friends into Gaines' Memphis studio. Jimmy Thackery adds a brief solo to "Worst Heartache," and Little Milton takes the lead guitar on "One Night Affair" and most of the solos on "You Said 'I Love You' First." It's a testament to Kubek's killer guitar chops that neither Thackery nor Milton can upstage his versatile, hard-charging Texas guitar.
Kubek's most remarkable performance comes on "Spanish Trace" — an instrumental with a personal mission. In the liner notes he dedicates it to "all people with instincts in collision, that it may bring physical, mental, emotional and spiritual healing, love and forgiveness." The piece has a mystical, fusion-blues-meets-jazz aura, achieved in part by Kubek's use of an acoustic guitar run through a Leslie organ cabinet.
The jazz/R&B influences Bnois King has brought to Kubek's work are more evident than in the past. "Roll of the Dice" begins with a prolonged, fuzzed-up chord before it hurtles into a funky, scratchin' guitar backbeat constructed for King's sweet, muscular vocals. The title track gives Kubek a funkified rock beat against which to structure solos. Kubek opens up full throttle, grinding on a lap steel while King's always strong vocals riff into a no-bull spoken bravado.
"Walk On" is a haunting ballad that shows King's sweet and melancholy ability to interpret a slow song and provides a nice transition into "Spanish Trace." King, who was not a writer before he began his partnership with Kubek, pens all the lyrics; Kubek handles the music. Together, their partnership produces catchy blues filled with funky rhythms and rock-amped power. It's an artistic partnership in top form.